Dr. APJ Abdul Kalam also known as  Missile Man of India was an aerospace scientist and the former President of India. Abul pakir Jainulabdeen Abdul Kalam was born on October 15,1931 in Rameswaram, India. He was born in a very poor family. His father was a sailor and he had only one boat for earning. APJ Abdul Kalam attended the madras institute of Technology where he received a degree in aeronautical engineering in 1960. He selected as 11th President of India from 2002 to 2007. Dr. Kalam had been given the highest civilian honor Bharat Ratna even before he became President.
On 27th July 2015, while delivering a lecture at the Indian Institute of Management Shillong, Kalam collapsed and died from an apparent cardiac arrest. His death was a matter of outpouring grief for all Indians. The Government of India declared a 7-Day State Mourning Period as a mark of respect to the true legends of India. 
We have all been told many times that self-belief and confidence are the key to success. The essence of APJ Abdul Kalam's philosophy on success is that there are no guarantees to success. You must prove yourself through action. If you think you have a good idea or are talented, you must take steps to make it happen. Those who wait to pursue their dreams and realize their full potential are leaving themselves wide open to failure.
Thoughts on success are very valuable. While some people believe that an idea is worthless, others see it as the key to unlock the door to unlimited success. Those with the courage to take big risks are viewed as leaders. Those with plenty of self-confidence are recognized as outstanding salesmen.
21 APJ Abdul Kalam Thoughts In English On Success
"All Birds find shelter during a rain. But Eagle avoids rain by flying above the Clouds"
"Don't take rest after your first victory because if you fail in second, more lips are waiting to say that your first victory was just luck."

"confidence and hard work is the best medicine to kill the disease called failure. it will make you successful person."

"Look at the sky. We are not alone. The whole universe is friendly to us and conspires only to give the best to those who dream and work."
Abdul kalam On Dreams
"A dream is not that which you see while sleeping, it is something that does not let you sleep."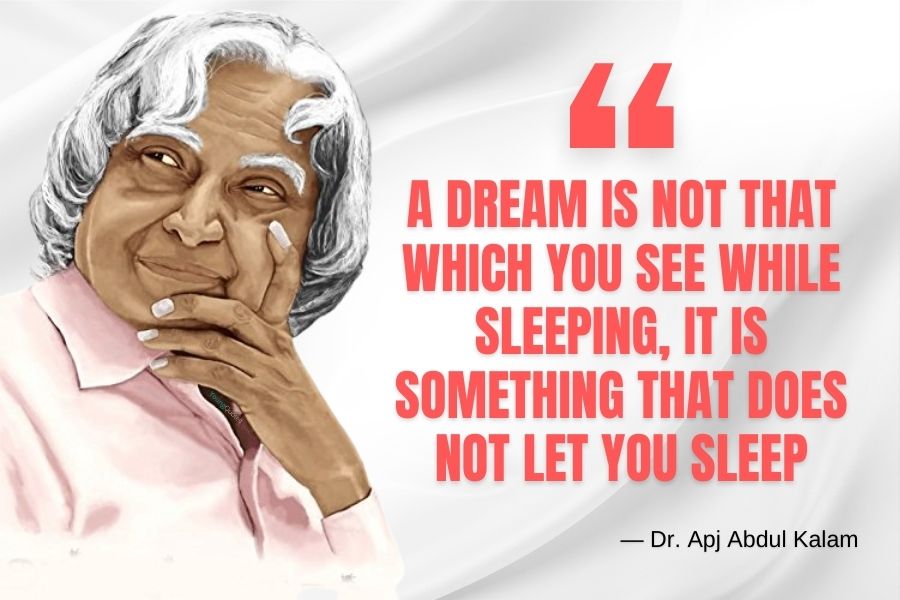 "Dream, dream, dream. Dreams transform into thoughts and thoughts result in action."

"If you want to shine like a sun, first burn like a sun."

"Winners are not those who never fail but those who never quit."

"There are a number of women who have brought about immense change in society."

"Be more dedicated to making solid achievements than in running after swift but synthetic happiness."

"All of us do not have equal talent. But, all of us have an equal opportunity to develop our talents."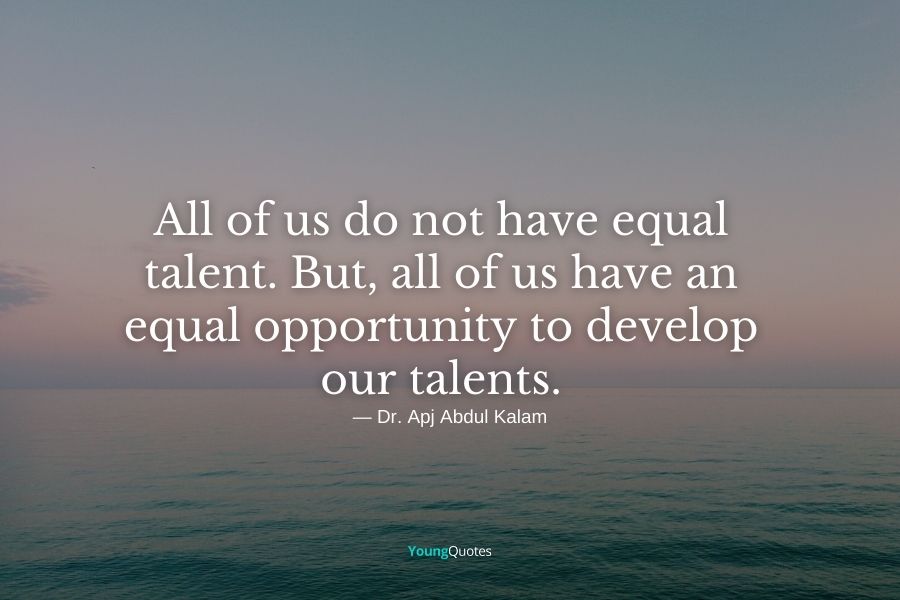 "Don't fear failing in the first attempt because even the successful maths starts with zero only."

"You see, god helps only people who work hard. That Principle is very clear."

"The youth need to be enabled to become job generaters from job seekers."

"To succeed in your mission, you must have single-minded devotion to your goal."

"Man needs difficulties in life because they are necessary to enjoy success."
"Failure will never overtake me if my determination to succeed is strong enough."

"Learning gives creativity. Creativity leads to thinking. Thinking provides knowledge. Knowledge makes you great."

"You cannot change your future, but, you can change your habits, and surely your habits will change your future."

"It is very easy to defeat someone. But it is very hard to win someone."
"Black colour is some time sentimentally bad, but every black board makes the students life bright."
Read More :-