George Washington is one of the most influential figures in American history. This Founding Father was a soldier, statesman, and leader who helped shape the United States into the nation it is today.
But his wisdom and knowledge didn't just stop there — his quotes on life, success, and intelligence provide profound insight into making it through difficult times and becoming successful in our own pursuits.
Here we've gathered 49 of George Washington's best quotes to help you gain some perspective from this great man himself!
Below you'll find a listing of the 50 George Washington quotes.
George Washington quotes
1). "If freedom of speech is taken away, then dumb and silent we may be led, like sheep to the slaughter." — George Washington
2). "Occupants of public offices love power and are prone to abuse it." — George Washington
3). "Labor to keep alive in your breast that little spark of celestial fire called conscience." — George Washington
4). "99% of failures come from people who make excuses." — George Washington
5). "I hope, some day or another, we shall become a storehouse and granary for the world." — George Washington
6). "Observe good faith and justice toward all nations. Cultivate peace and harmony with all." — George Washington
7). "It is better to be alone than in bad company." — George Washington
8). "True friendship is a plant of slow growth, and must undergo and withstand the shocks of adversity, before it is entitled to the appellation." — George Washington
9). "A primary object should be the education of our youth in the science of government. In a republic, what species of knowledge can be equally important? And what duty more pressing than communicating it to those who are to be the future guardians of the liberties of the country?" — George Washington
10). "Let your heart feel for the afflictions and distress of everyone, and let your hand give in proportion to your purse." — George Washington
11). Be courteous to all, but intimate with few, and let those few be well tried before you give them your confidence. — George Washington
George Washington honesty quotes
12). "Associate with men of good quality if you esteem your own reputation." — George Washington
13). "We should not look back unless it is to derive useful lessons from past errors, and for the purpose of profiting by dearly bought experience." — George Washington
14). "Reason and experience both forbid us to expect that national morality can prevail in exclusion of religious principle." — George Washington
15). "A pack of jackasses led by a lion is superior to a pack of lions led by a jackass." — George Washington
16). "The turning points of lives are not the great moments. The real crises are often concealed in occurrences so trivial in appearance that they pass unobserved." — George Washington
Also read: International Women's Day 2023 Wishes: Quotes, Status, Messages and Images
17). "Let us therefore animate and encourage each other, and show the whole world that a Freeman, contending for liberty on his own ground, is superior to any slavish mercenary on earth." — George Washington
18). "Happiness depends more upon the internal frame of a person's own mind, than on the externals in the world." — George Washington
George Washington quotes on government
19). "Mankind, when left to themselves, are unfit for their own government." — George Washington
20). "The great rule of conduct for us, in regard to foreign nations, is, in extending our commercial relations, to have with them as little political connection as possible." — George Washington
21). "In politics as in philosophy, my tenets are few and simple. The leading one of which, and indeed that which embraces most others, is to be honest and just ourselves and to exact it from others, meddling as little as possible in their affairs where our own are not involved. If this maxim was generally adopted, wars would cease and our swords would soon be converted into reap hooks and our harvests be more peaceful, abundant, and happy." — George Washington
Also read: Top 10 Quotes from Famous Authors
22). "To be prepared for war is one of the most effective means of preserving peace." — George Washington
23). "Government is not reason, it is not eloquence-it is force! Like fire it is a dangerous servant and a fearful master; never for a moment should it be left to irresponsible action." — George Washington
24). "Arbitrary power is most easily established on the ruins of liberty abused to licentiousness." — George Washington
25). "For myself, the delay may be compared to a reprieve; for in confidence I can assure you? with the world it would obtain little credit? that my movements to the chair of Government will be accompanied with…" — George Washington
26). "For happily the Government of the United States, which gives to bigotry no sanction, to persecution no assistance requires only that they who live under its protection should demean themselves as good…" — George Washington
27). "A government is like a fire, a handy servant, but a dangerous master." — George Washington
George Washington quotes on education, intelligence and

Life
28). "Guard against the impostures of pretended patriotism." — George Washington
29). "Father, I cannot tell a lie. I did it with my little hatchet." — George Washington
30). "A sensible woman can never be happy with a fool." — George Washington
31). "the harder the conflict, the greater the triumph." — George Washington
32). "Be not glad at the misfortune of another, though he may be your enemy." — George Washington
33). "Perseverance and spirit have done wonders in all ages." — George Washington
34). "Discipline is the soul of an army. It makes small numbers formidable; procures success to the weak, and esteem to all." — George Washington
35). "I conceive a knowledge of books is the basis upon which other knowledge is to be built." — George Washington
36). "True friendship is a plant of slow growth, and must undergo and withstand the shocks of adversity, before it is entitled to the appellation." — George Washington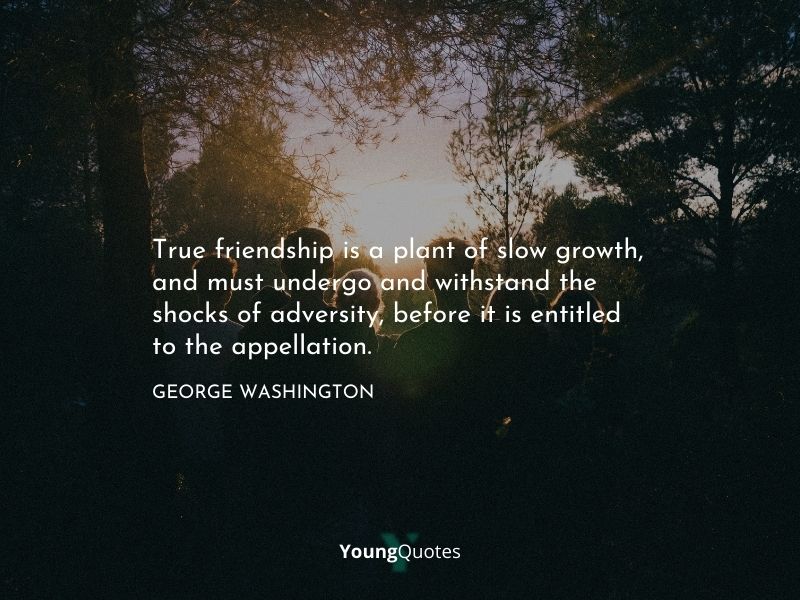 37). "The truth will ultimately prevail where there are pains to bring it to light." — George Washington
38). "When one side only of a story is heard and often repeated, the human mind becomes impressed with it insensibly." — George Washington
39). "It is impossible to govern the world without God. It is the duty of all nations to acknowledge the Providence of Almighty God, to obey his will, to be grateful for his benefits and humbly implore his protection and favor." — George Washington
40). "We should not look back unless it is to derive useful lessons from past errors, and for the purpose of profiting by dearly bought experience." — George Washington
41). "Experience teaches us that it is much easier to prevent an enemy from posting themselves than it is to dislodge them after they have got possession." — George Washington
42). "Leave nothing for tomorrow which can be done today." – George Washington
George Washington quotes On Success and Leadership
43). "Let your Discourse with Men of Business be short and comprehensive." — George Washington
44). "No punishment, in my opinion, is to great, for the man who can build his greatness upon his country's ruin." — George Washington
45). "War – An act of violence whose object is to constrain the enemy, to accomplish our will." — George Washington
46). "It is impossible to reason without arriving at a Supreme Being." — George Washington
47). "To contract new debts is not the way to pay for old ones." – George Washington
48). "My mother was the most beautiful woman I ever saw. All I am I owe to my mother. I attribute my success in life to the moral, intellectual and physical education I received from her." — George Washington
49). "If the cause is advanced, indifferent is it to me where or in what quarter it happens."
50). "It is far better to be alone, than to be in bad company." — George Washington