Spending quality time with your family can be one of the most rewarding experiences in life.
Families provide us with comfort and support, reminding us that home is where we truly belong.
When things get tough, powerful family quotes can offer warm words of wisdom to lighten our hearts and remind us that love makes a family strong.
Below you will get a list of most popular family time quotes.
Let these 45 inspiring Family time quotes help you appreciate the people who are always by your side!
Family Time Quotes
1). "Family time is sacred time and should be protected and respected." – Boyd K. Packer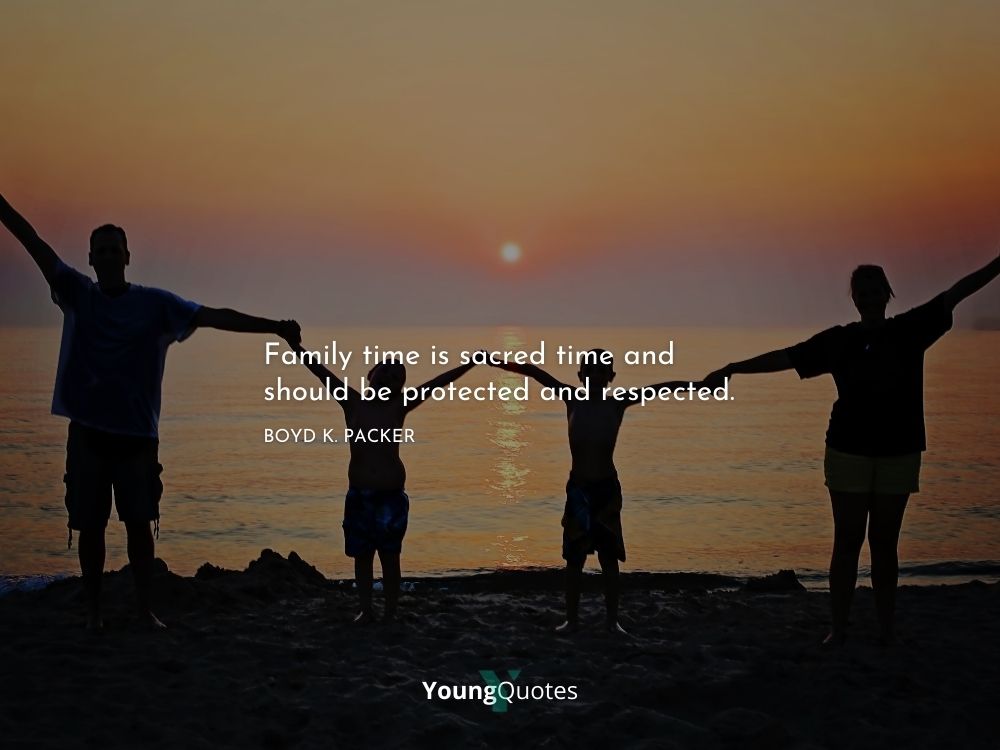 2). "Nothing comes before family."
3). "Take time to see your family."
4). "Smile at each other, make time for each other in your family." – Mother Teresa
5). "A man who doesn't spend time with his family can never be a real man." – Don Vito Corleone
Also read: 35 Inspirational Vacation Quotes for Instagram, Travel and Relaxation
6). "A family is one of nature's solubles; it dissolves in time like salt in rainwater." – Pat Conroy
7). "The bond that links your true family is not one of blood, but of respect and joy in each other's life." – Richard Bach
8). "A man should never neglect his family for business." – Walt Disney
9). "Time spent with family is time well spent. Family is the one constant element in life."
10). "Family time is not a matter of convenience. It is a matter of priority."
Famous family time quotes
11). "No amount of money or success can take the place of time spent with your family."
12). "It's very important to prioritize. I know, for me, my family comes first. That makes every decision very easy." – Jada Pinkett Smith
13). "I do get to have my normal childhood. I just love to get together with my friends and family and have a good time." – Austin O'Brien
14). "I think togetherness is a very important ingredient to family life." – Barbara Bush
15). "When in doubt, choose the kids. There will be plenty of time later to choose work." – Anna Quindlen
16). "At the end of your life, you will never regret not having passed one more test, not winning one more verdict, or not closing one more deal. You will regret time not spent with a husband, a friend, a child, or a parent." – Barbara Bush
17). "My family is more important than my party." – Zell Miller
18). "Spend some time this weekend on home improvement; improve your attitude toward your family." – Bo Bennett
19). "Cherish your family, make time, have patience, and laugh often with them." – B. B. Butler
20). "Sticking with your family is what makes it a family." – Mitch Albom
Spending time with family is priceless quotes
21). "I don't think quantity time is as special as quality time with your family." –  Reba McEntire
22). "A family doesn't have to be perfect; it just needs to be united."
23). "A family that plays together stays together."
24). "Most of us spend too much time on what is urgent and not enough time on what is important." – Stephen Covey
25). "Think of your family today and every day thereafter, don't let the busy world of today keep you from showing how much you love and appreciate your family." – Josiah
Read also: Top 31 Long Distance Relationship Quotes To Express Your Love
26). "Some of the most important conversations I've ever had occurred at my family's dinner table." – Bob Ehrlich
27). "Family is in our hearts, bonded together for life, no matter where you rest your head."
28). "The times I feel most loved are the times I'm near family."
29). "There is nothing more important than being with your loved ones."
30). "When our family is together, it's impossible not to feel the love."
Family time Quotes for Instagram
31). "Dancing along with family members and old friends, especially during a marriage, is a memorable experience." – The Great Khali
32). "I absolutely love spending time with my family." – Kevin Alejandro
33). "Making your spare time to look towards the precious things you have, the pastimes, and family makes life more satisfied and agreeable, as well as it will definitely help you in being more concentrated at work as well." – Adam Green
34). "Time is not something that can be measured with a pendulum. Time is something that we build together within a tribe, a family, a region." – Paul Virilio
35). "If you are too busy to enjoy time with your family, then you need to reevaluate your priorities." – Dave Willis
36). "What will always remain is love, passion and family time." – Mario Batali
37). "Mornings and afternoons are my family time and I'm lucky that I can drop the kids off at school, I don't have to be at the office or anything." – Gwyneth Paltrow
38). "The memories we make with our family is everything." – Candace Cameron Bure
39). "In family life, love is the oil that eases friction, the cement that binds closer together, and the music that brings harmony." – Eva Burrows
Also read: Top 49 George Washington Quotes on Life, Success, Intelligence, Etc
40). "The most important thing in the world is family and love." – John Wooden
41). "A happy family is but an earlier heaven." – George Bernard Shaw
42). "The love of family and the admiration of friends is much more important than wealth and privilege." – Charles Kuralt
43). "The family is one of nature's masterpieces." – George Santayana
44). "Family time is not a matter of convenience, it's a matter of priority." – Terry Crews
45). "Family is not an important thing. It's everything." – Michael J. Fox