Saying goodbye to a loved one is never easy, but the right words can make even the toughest of goodbyes more bearable.
With that in mind, we've put together 54 powerful, inspiring and comforting funeral quotes that will help give you strength and courage as you say your final farewells.
From timeless thinkers like Shakespeare to modern authors such as Maya Angelou – this collection has something for every eulogy or obituary no matter what style or theme you're going with.
These inspirational quotes can provide comfort during difficult times and help commemorate your loved one's life perfectly. Read on for our top pieces of advice on how best to pay tribute to someone who has gone too soon!
Below you'll find a listing of the 54 Inspirational Funeral Quotes.
Inspirational Funeral quotes
1). "Life has to end. Love doesn't."
2). "Rest in peace with eternal sleep."
3). "You will be missed by all of us lucky to have known you. Rest in peace."
4). "The song is ended, but the melody lingers on" – Irving Berlin
5). "I did not attend his funeral, but I sent a nice letter saying I approved of it." – Mark Twain
6). "May the blessings of a good life lived follow you into heaven."
7). "Many people will walk in and out of your life, but only true friends will leave footprints on your heart." – Eleanor Roosevelt
8). "The comfort of having a friend may be taken away, but not that of having had one." — Seneca
9). "Let no one weep for me, or celebrate my funeral with mourning; for I still live, as I pass to and fro through the mouths of men." – Quintus Ennius
10). "I'll remember you. When I've forgotten all the rest. You to me were true. You to me were the best." – Bob Dylan
11). "To live in hearts we leave behind is not to die." – Thomas Campbell
12). "Death is more universal than life; everyone dies but not everyone lives." – Alan Sachs
Tribute quotes to a dead person
13). "May heaven's gate stand open for you."
14). "Life is eternal and love is immortal, and death is only a horizon. And a horizon is nothing save the limits of our sights."
15). "How can the dead be truly dead when they still live in the souls of those who are left behind?" – Carson McCullers
16). "Death is not extinguishing the light. It is putting out the lamp because the dawn has come." – Rabindranath Tagore
17). "The legacy of heroes is the memory of a great name and the inheritance of a great example." – Benjamin Disraeli
18). "It's hard to turn the page when you know someone won't be in the next chapter, but the story must go on." – Thomas Wilder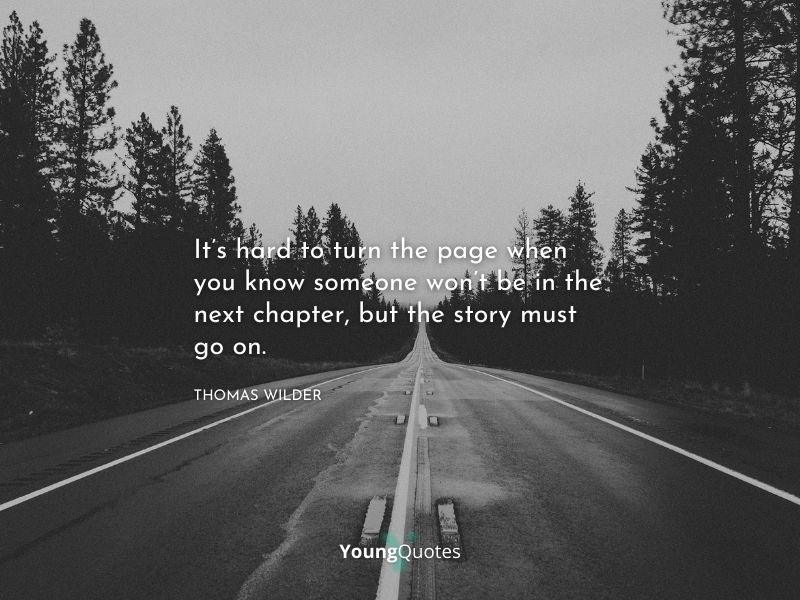 19). "In the end, it's not the years in your life that count. It's life in your years." – Abraham Lincoln
20). "Deeply, I know this, that love triumphs over death. My father continues to be loved, and therefore he remains by my side." — Jennifer Williamson
21). "Life itself is the most wonderful fairy tale." – Hans C Anderson
22). "Only a moment you stayed, but what an imprint your footprints have left on our hearts." – Dorothy Ferguson
23). "What we once enjoyed and deeply loved we can never lose, for all that we love deeply becomes part of us." – Helen Keller
Quotes to read at a funeral
24). "Even death is not to be feared by one who has lived wisely." – Buddha
25). "What you leave behind is not what is engraved in stone monuments, but what is woven into the lives of others."
26). "Perhaps they are not the stars, but rather openings in Heaven where the love of our lost ones pours through and shines down upon us to let us know they are happy."
27). "People living deeply have no fear of death." – Anais Nin
28). "Death leaves a heartache no one can heal, love leaves a memory no one can steal." – Irish proverb
29). "Goodbyes are only for those who love with their eyes. Because for those who love with heart and soul there is no such thing as separation." – Rumi
30). "Lives are like rivers: Eventually they go where they must. Not where we want them to." – Richard Russo
31). "There are no goodbyes for us. Wherever you are, you will always be in my heart." – Gandhi
32). "Do not fear difficulty. Hard ground makes stronger roots." – Ventari
33). "The life of the dead is placed in the memory of the living." – Cicero
34). "A man is known by his works. That I have heard at many funerals." – Winslow Homer
Funeral Quotes for Friends, Family members and relatives
35). "We say goodbye to a dear friend. Our separation is temporary. One day we'll all be back together."
36). "My brother touched all our lives and left us with fond memories."
37). "My brother was a pillar of the community and the rock of his family."
38). "Your life was our blessing, and you shall never be forgotten."
39). "Those we have held in our arms for a little while, we hold in our hearts forever." – Khalil Gibran
40). "A man loves his sweetheart the most, his wife the best, but his mother the longest." – Irish Proverb
41). "I know my sister would have us praise God today and rejoice in her entering heaven."
42). "A mother is an eternal well-spring of love and hope."
43). "Our father was the heart of our family and taught us how to love one another."
44). "Family surrounds us in times of sorrow and gives us strength to face the loss of a loved one."
45). "The pain of losing you only serves as a reminder of how special you really were."
46). "In this life we will never truly be apart, for we grew to the same beat of our Mother's heart." – Daphne Fandrich
Short funeral quotes
47). "In God's grace go into the heavenly realm."
48). "To a life well spent – RIP"
49). "Go in peace – you've earned your sleep"
50). "Grief is the price we pay for love." – Queen Elizabeth II
51). "Love is the funeral of hearts." – Ville Valo
52). "Death ends a life, not a relationship." – Morrie Schwartz
53). "Love like ours can never die." – Rudyard Kipling
54). "A spiritual journey doesn't end with death."