Below you'll find a listing of the top 35 best quotes on smile in English We've compiled a list of the most popular quotes on smile in english with images.
Quotes on smile in English with images
1). "Smile, it's free therapy."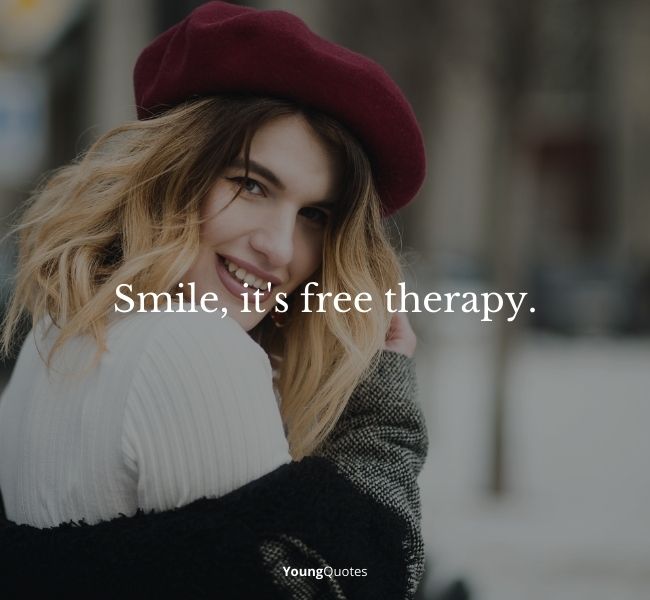 2). "A warm smile is the universal language of kindness." – William Arthur Ward
3). "Smile, smile, smile at your mind as often as possible. Your smiling will considerably reduce your mind's tearing tension." – Sri Chinmoy
4).  "Because of your smile, you make life more beautiful." – Thich Nhat Hanh
5). "Smiling is definitely one of the best beauty remedies. If you have a good sense of humour and a good approach to life, that's beautiful." – Rashida jones
6).  "When there are clouds in the sky, you'll get by if you smile through your fear and sorrow."
7).  "Don't cry because it's over, smile because it happened." ― Dr. Seuss
8). "I love those who can smile in trouble." – Leonardo da Vinci.
9). "Try to be a rainbow in someone's cloud." — Maya Angelou
10). "You are never too old to set another goal or to dream a new dream." – C.S. Lewis
11). "The real man smiles in trouble, gathers strength from distress, and grows brave by reflection." – Thomas Paine
12). "Develop an 'Attitude of Gratitude'. Say thank you to everyone you meet for everything they do for you."
13). "Nothing shakes the smiling heart." – Santosh Kalwar
14). "A gentle word, a kind look, a good-natured smile can work wonders and accomplish miracles." – William Hazlitt
15). "The greatest self is a peaceful smile, that always sees the world smiling back." – Bryant H. McGill
16). "Smile at strangers and you just might change a life." – Steve Maraboli
17). "You are not fully dressed until you wear a smile." ― Evan Esar
18). "Smile, it is the key that fits the lock of everybody's heart." – Anthony J. D'Angelo
19). "Remember to smile." — Nelson Mandela
20). "A smile is a friend maker." – Bangambiki Habyarimana
21).  "Share your smile with the world. It's a symbol of friendship and peace." – Christie Brinkley
22). "Sometimes your joy is the source of your smile, but sometimes your smile can be the source of your joy." – Thich Nhat Hanh
23). "More smiling, less worrying. More compassion, less judgment. More blessed, less stressed. More love, less hate." – Roy T. Bennett
24). "The more you feed your mind with positive thoughts, the more you can attract great things into your life."
25). "Use your smile to change the world, don't let the world change your smile."
26). "A simple smile. That's the start of opening your heart and being compassionate to others." – Dalai Lama
27). "A smile is a facelift that's in everyone's price range!" ​– Tom Wilson
28). "Smile. Have you ever noticed how easily puppies make human friends? Yet all they do is wag their tails and fall over." ​– Walter Anderson
29). "A smile is an inexpensive way to change your looks." — Charles Gordy
30). "I have many problems in life. But my lips don't know that. They always smile." – Charlie Chaplin
31). Man is here for the sake of other men – above all for those upon whose smiles and well-being our own happiness depends." – Albert Einstein
32). "Just one smile immensely increases the beauty of the universe." – Sri Chinmoy
33). "Smile is a good reply to the dark world." – Mehmet Murat Ildan
34). "A smile is the best makeup any girl can wear." – Marilyn Monroe
35). "Today, give a stranger one of your smiles. It might be the only sunshine he sees all day." – H. Jackson Brown, Jr.